In this post you'll learn how to use Easil for DIY Design (that's SO good it looks like a Pro designed it). 
If you need to create DIY Visual Content for your business then get excited – Easil is about to become your Secret Weapon! You'll be crushin' on this tool as much as me by the time we're finished.  
BY DONNA MORITZ | 17 DECEMBER, 2017 | CONTAINS AFFILIATE LINKS
We've come a long way with design tools for creating visual content and I have talked about a lot of great visual content tools on this blog (and will continue to).  I love that we no longer need a degree in Photoshop to create something!
But I've been searching for a "next-level" DIY Design tool because a lot of my readers represent brands and businesses that don't want their content to look "DIY", even if it is.
They want to avoid cookie-cutter templates that look like everyone else's designs, and they keep returning to using a designer…which costs them time and money.
So when I discovered Easil I was excited. It's perfect for the type of brands I work with in tourism, hospitality and entertainment  – as well as entrepreneurs who want to create edgy graphics.
Easil's story is unique in that it is not "new" but instead was developed a few years ago to service the in-house design clients of it's parent company.  So, Easil has been used as the DIY Design Tool of choice with large Australian companies for a few years now. We're just lucky that they decided to share it with the general public!

I've been using Easil for DIY Design more and more in my business, so I wanted to share how to use Easil in this post as well as some of the awesome features of this tool with you!
9 Awesome Easil Features to"Next-Level" Your DIY Design
These are 9 of my favourite features in Easil.  Easil is FREE to join at this link with a free upgrade to Plus Level for 30 days – which gives you access to all of the features mentioned in this post.
Note : After 30 Days it's just $7.50 USD ($9AUD) per month if you wish to remain on Plus. No credit card required to start. Go back to Easil's Free Plan ongoing at any time.  
#1.  Killer Templates and Fonts
The templates and fonts in Easil were the very thing that caught my attention in the first place – I had seen a few very funky fonts and designs floating around in a visual content challenge I was running, and simply had to find the tool that was being used to create them.  I signed up for a trial that day!
Check out some of the fonts and templates in action. It's easy to drag in images, switch out text and create a custom design:
Easil has 1000s of templates and one of the largest font selections I have seen. There is a lot to love! You can:
Access 1000s of professionally designed, modern templates ranging from social media posts to posters, flyers, infographics, Instagram stories, blog graphics, and more!
Choose from dozens of fun, modern fonts – it's a breath of fresh air to have some new choices!
Upload your own brand fonts to use on any template
Use all existing images or elements within templates without paying extra when you go to hit publish.  There's no extra charge unless you add elements or premium images to a template.
Search for templates by theme or topic in the app, not just size (all images are tagged for easy search).
Resize images in a snap. Easil's resize feature is intuitive and makes it super easy to resize from one social media template size to another. Very little tweaking required!
Note:  You can upload your own images, access layers and groups, free graphic elements and a free stock image range on the free level of Easil. Resizing and uploading of brand fonts begins at Plus level.    
Here are some of my favourite template styles, to give an idea about why I am crushin' on them:
Social Media Templates:
Easil's social media templates (from Instagram to Pinterest to Facebook, Twitter and more) are always expanding with new ones being added every week:
These are just a few of my favourite templates – there are posters, flyers HDTV displays, and many more social media sizes to explore.
Instagram Stories Templates: 
These are relatively new but they are great for branding of your stories and ideas for different types of content to share:
They're also great for preparing a story ahead of time and uploading it in one sequence (something savvy brands are doing rather than just ad hoc photos -giving a lot of options for storytelling).
Infographic Templates:
These are probably my favourite. Mid-length infographics that are just long enough to catch attention and short enough not to lose it:
In my experience some of the infographic tools available are variable in the quality of their design whereas others give us too much scope to create them, resulting in DIY Design that looks very DIY.
Easil's infographic templates keep it simple.  It's really just a matter of drag, drop and edit.  The more you stick with the template, the quicker it is and the better the final result.  I've created a few of these now and they often don't take more than 30-60 minutes if I have my images and text ready.
Access Easil's Killer Templates – You get access to 5,000+ templates on the Plus Level of membership vs 2000+ on the free account.  Hospitality-level users can access another 4,000+ industry specific templates (9,000+ all up). For most of my audience, Plus is a great place to start and you can trial it for 30 days. If you are in tourism and hospitality, Hospitality level is brilliant.
#2.  Design Merge
Design Merge is a recent update in Easil that has changed things up a lot! It allows you to bring a single page or a whole bunch of elements from another design into your current file.
Design Merge is best viewed visually to understand how it works. Here's how to use Easil and Design Merge to take elements of one design into another:
You can use it to grab a group of elements together and "merge" them into another page, add a footer design to pages, or bring a different template into your existing document. You can also merge menu templates into a new design.
Love one part of one design and another part of another? Then "merge" them!
Here's an example of how to use Easil to merge a footer with Design Merge:
Using Design Merge for tables and menus is one of my favourites.  Check out how to use Design Merge when creating menus from different designs:
I should mention here that Design Merge works with layers.  In Easil you can work in basic layers in your design, and group elements together.
You can also hide a layer (which you can't do in many other tools) which is very handy if you are undecided about the final image. It allows you to experiment with what works before deleting anything.
Access Design Merge – if you are a Plus or Hospitality user (also available on your 30-day free trial).
#3  Color Palette Generator
Ever struggled for the right color for your design (maybe to match the your title to an image), and you can't work out the best match?  No longer!
Easil has a very handy tool called Color Palette Generator. Put simply, it automatically pulls in a selection of colors and tones from the image in your DIY design – so you can select the right color for your design, every time.
Here's how it use Easil to get the right colors every time with Color Palette Generator:
Color Palette Generator is like having a designer in your back pocket, ready to tell you the best color combinations. I use it ALL the time.
The best part is that it pops up easily in the Action Bar, while you are designing in images and text. An example of how it works in the Action Bar is shown in the video above. Depending on what you are working on (text, colors, images), the relevant Action Bar selection opens for you to use, including the Color Palette Generator.
Access Color Palette Generator – trial it for free at Plus Level or above (starting at $7.50 USD per month).
#4.  GIF Maker
Yep, it's true. I've lost hours with the GIF Maker Tool. Hours of FUN!
It's just what I have been looking for to create GIFs and even short videos (easily converted from GIFs).
GIF is short for Graphic Interchange Format, but I prefer the less technical description of "it's like an old-school flip-book where you add motion to stationary images".  
Here's a GIF I made recently to use in replies on Facebook and Twitter, (to thank people for sharing my content):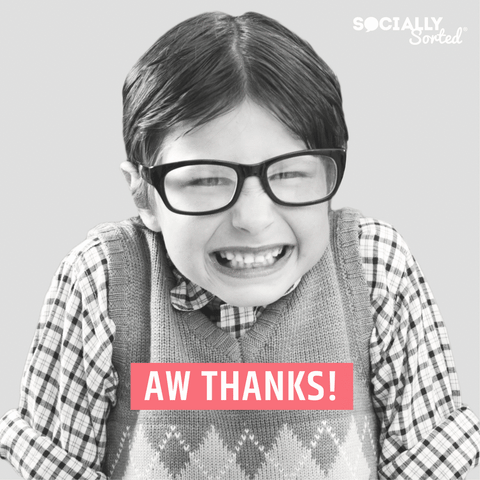 and here's one I made for the Festive Season, straight from a template in Easil: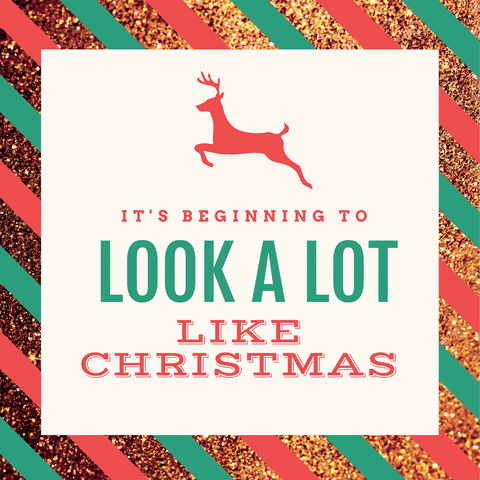 You'll notice that unlike a lot of GIFs you create from templates in other visual content tools, these GIFs are not restricted to animating just text.
This has been something that frustrated me until now, as I was often restricted to animating the text in the same 4 or 5 ways (ie swipe left, right, appear, fade in etc).  The animation options are usually pretty locked down within tools.
Easil's GIF Maker gives you the option to animate text, icons OR photos.  It isn't "one click" but it IS easy to create very unique GIFs!
Here's a quick overview of how to use Easil's GIF Maker:
GIFs are huge across messaging apps, social media posts and replies, blog posts, websites and emails.  We use them to say what words can't … and usually it's pretty funny!  I see Easil's tool as a great way to create GIFs that stand out from everyone else's.
Why not stand out from the crowd with your own custom GIFs? – take it for a spin on a free Trial. Available at Plus level or above.
Infographic Break – How to Use Easil to Next-Level your DIY Design
I've used one of Easil's easy-to-edit Infographic templates (or "Pinterest Tall" images) to create an infographic that summarizes the best features of Easil.
It shows you how to use Easil to Next-Level Your DIY Design:
Share this Image On Your Site
Want to use this infographic template?  You'll find it in the Pinterest Tall (Infographic) Templates in Easil.
#5.  Folders & Favourites
If you are designing #AllTheThings, you need a place to store them!
At Plus level or above, you can store all your designs in folders. I have folders for GIFs, Infographics, Social Media Designs and more!
You can also add all of your logos, illustrations, images into folders for easy access!  Find your brand assets in a snap:
I also love how Easil saves the elements of a template in the a unique folder, so you can access them easily.  Here's an example of some assets I had saved within an infographic design:
Get access to Folders and Favorites – Available on Plus level and higher (try it on a free trial).
#6.  Easil Stock and Stock Library
If you've followed my blog you will realise I am not a fan of boring stock images.  The problem, however, is that good quality, different, fun, edgy stock images are hard to come by.
Easil is on a mission to stamp that out!  There are two levels of stock images to LOVE with Easil:
1  Easil Stock
Easil's in-house photographers regularly do shoots to give you a huge range of #EasilStock Images – over 1500 of them!
Easil Stock images are modern and fresh and cover everything from food and hospitality to blogging and entrepreneurship… even DJs and Beer!
Oh and if you love pineapples and watermelons, then pineapples and watermelons you shall have.
I use #EasilStock a lot in my social and blog images. Check them out below (drool):
2  Stock Library
Access Millions of affordable, pay-per-use stock images from some of the world's biggest libraries like iStock Photo – from $1-$3 per image.
Get access to Easil Stock – Available on Plus level and higher. Start your free Trial on Plus Level here.
#7.  Text Effects
Text effects like Drop Shadow can be hard to get right for DIY Design. In fact, in general, (as we say in Australia) us non-designer types "stuff it up!".  Easil makes it easy to create great drop shadows and "glow" effects with their Text Effects tool.
Text Effects pops up as an option in the Action Bar when you are working on any Text. You can add shadows, glow (my favourite) or blur effects.
Here is an example of how to use Easil with stunning Text Effects (in this case "glow") in your design:
Here's a few tips from Easil on using the Text Effects Tool:
Start using stunning Text Effects – Available on Plus level and higher (try it on a free trial).
But wait there's more – Text Masking!
Easil has an awesome new text feature called "Text Masks". It's a different tool in Easil but I will add it here as it also helps you to create stunning effects with text. Only this time, it's about turning any font or text – Easil's or your own uploaded fonts – into beautiful text that is filled with the image of your choice.
It's easy to do – just a few clicks.  Here's an example of how stunning text masks can be with a poster design from Easil:
If you don't think this effect is cool, then I seriously have nothing for you haha.
Think glitter effects, photos in text, patterns in text. The creativity that you can unleash with this tool is endless!
#8.  Tables
Easil's Tables feature is in Beta and it's making my life a whole lot easier, especially for creating documents that need a little framework!
Watch the short video to see how to use Easil's Tables:
Tables appear in many of Easil's templates already, or you can click to grab a table and add it to your own design.  It's perfect for creating:
Menu's – Easil's menu maker is built on Tables functionality and is a event or restaurant manager's dream.
e-Books – Easil has a whole bunch of e-Book templates for you ready to go and create your next best-seller!  Format your book in a snap!
…get creative – anything that needs a little structure… Tables is your friend! 
#9.  Transparent PNG Images
This post used to be about 8 awesome features but I had to expand it to 9. Design with Easil just got a whole lot better with Transparent PNG images being added to the mix.  I've been waiting for this for ages, so that I can create designs with transparent backgrounds that I can then use to overlay other visuals.
Here's a video showing you how it works:
Other Things to Love (if you really need more!)
The Team
Easil's team are super helpful and have great customer service. If you're stuck with your DIY Design, they're more than happy to help.
I also love that they are creating new tools within Easil every few months, and always improving the user experience.
Design Assist
This is a service that I imagine would be super handy to many businesses or brands. Instead of paying for full service graphic design, get the designers to finish your design in Easil.
Stuck and can't finish something the way you would like? Easil's Design assist team can step in (for a fee) and finish it for you. More affordable than a designer, and takes less time!
Easil Print
Easil Print has been around for a while now in Australia but they have plans to expand into the US soon. It's a handy service should you need to print something straight from Easil.
Your Turn – Take Easil for a Spin!
Easil is FREE for my readers to join at this link with a free upgrade to Plus Level for 30 days. This will give you plenty of time to take it for a spin and test all the features of Plus.  Then at the end of the 30 days you can either:
Pay to continue with Plus – for $7.50 USD per month ($9 AUD) to continue with Plus!
remain on Easil's Free Plan ongoing (without the Plus features).  Either way you get to use Easil, which is a win!
In the meantime, I hope this post has given you a helpful overview of how to use Easil to Next-Level Your DIY Design!
Leave a comment below and let me know what you think!
This post is not sponsored or part of a paid content partnership. I just love Easil. It does, however, contain affiliate links, so if you sign up to Easil using the links in this post, I will receive financial compensation (at no cost to you).  I only promote brands, services and tools that create kick-butt helpful content, resources and offers for my community.  
The following two tabs change content below.
Donna is a Visual Content Strategist and founder of Socially Sorted, listed by Forbes as a "Top 5 Social Media Blog You Need to Know About in 2019". Donna helps brands leverage the power of visual storytelling and content strategy in their business. Her content has been featured in publications such as Forbes and Entrepreneur Online and she is a contributor to Social Media Examiner. Donna speaks about digital and visual content for the marketing and tourism industries internationally.
Latest posts by Donna Moritz (see all)