Ready to rock with August social media ideas? We've featured loads of them in this post. It's packed with Social Media Holidays for the month of August – including social media post ideas, video ideas, GIFs and more, ready for you to schedule.
BY DONNA MORITZ | UPDATED JULY 29, 2020
Posts on this blog may contain affiliate links, which means we receive a small commission at no cost to you if you purchase through a link.
This is a jam-packed post, full of popular, national and international holidays for the entire month of August. We've also added many unusual, weird and wonderful (and lesser known) August social media ideas and days of celebration. In fact, overall, you'll find 60+ different ideas in this post to get your creative juices flowing.
We've got calendar ideas for every single day in August, as well as ideas for weekly and monthly holidays – so you're fully covered. We've also added some tools and ideas, so this post is worth coming back to year after year.
What Comes With our August Social Media Ideas in 2020
Here's what you can expect from these August Social Media Ideas:
we've shared an infographic so you can quickly grab social media holidays for the month.
there's an overview of the complete month of August social media ideas – including ideas for what to create and how to share the content. This post is focused mainly on ideas for social video and GIFs but many of the ideas can also be used for image posts.
there's also a bonus list of resources and tools to help you create visuals for loads of Social Media Holidays!
You can check out our other monthly social media ideas posts here:
Tips for Prepping Your August Content Quickly
Creating content can take a LOT of time, but if you schedule content ahead it helps greatly to streamline everything. The following tips will help to make it easier for you.
Get prepped with a whole month of content – that's content that's created, scheduled, and prepped to post, in much less time than you think. Here are a few tips for doing that, especially when it comes to creating video:
Use templates – it makes it easier! Many DIY Design tools have templates as part of your subscription. Use them! Of course, you could design everything from scratch, but non-designers can find that tricky. And it takes hours! Instead, use a design template that the designer has created. Edit it and customize it for your own! Focus on editing the basics – the text/stock imagery/photo/background video – as well as colors and fonts. If you keep it simple, you won't ruin the design.
Batch all the things (and your images!). It's much easier if you sit down and create more than one video or image or GIF at a time. You're already making one, why not more? Make the most of it when you open up those design tools!
Create short-form video for your social networks – start with shorter, social video. Even 15-30 seconds is long enough for most social media platforms like Instagram and Facebook. Then progress to longer videos or YouTube length long-format video when you have the time to do so.
Create awesome that you know your audience will love. Share things we love to share – like questions, quotes, how-to videos, fun observational humour or handy tips.
GIFs add some spark to your post – so create them. GIFs add personality. You can find GIFs from Giphy's huge library of GIF designs and they are great for adding into emails, websites, messages, and social posts. They add humour and personality to your storytelling. Always share directly from Giphy to give credit and views to the creator.
Quick Guide Infographic to August Social Media Ideas & Holidays in 2020
Here's a quick reference guide to August Social Media Holidays in 2020. Share it or save it to Pinterest for later reference:
Want the full 2020 Social Media Holiday Infographic? Click here.
Tips for using this post filled with August Social Media Ideas
Create video around the holidays in August – you can do a popular Top 5 list, create a how-to video, or go behind the scenes with your content (related to an August holiday). Or create tutorials or quote videos. Is it National Book Lovers Day? Share your favorite latest read.
Create GIFs around the August holiday in question. Share a GIF direct from the library in Giphy
Create images – Popular types of images include quotes, memes, sayings, tips, or photos that reflect the celebration day. Images with text overlays are popular.
In this post, we're focusing mainly on social video (as well as GIFs and animations). Remember that you can use this information to create images too. Get creative with it.
I've included tools and tips below to help you to create August content. Let's dive in and get it started.
August Social Media Ideas and Holidays – Calendar Days
I've included at least one celebration "day" or holiday for every day of August in this list. June list of social media ideas and holidays (and a few extras). There are also hashtags, tips, tools and resources for creating visual content in 2020.
1. Spiderman Day – Is your spidey sense working? Today is all about your friendly neighbourhood Spiderman. And given the latest Marvel movies, Spiderman is always a popular superhero! Find out more here.
It's also Respect for Parents Day and National Girlfriend's Day, Sandcastle Day and Campfire Day (1st Saturday in August).
Oh, and World Wide Web Day. Where would we be without it, hey? Probably offline enjoying life a lot more, hehe.
2. National Coloring Book Day – use the hashtag #NationalColoringBookDay.
It's also International Beer Day. Cheers! And it's Friendship Day (1st Sunday in August).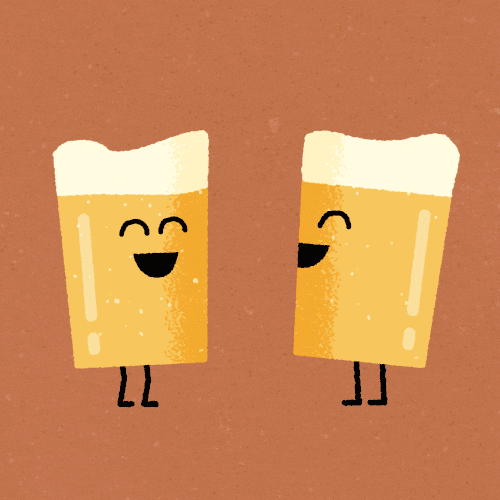 3. Watermelon Day – It's all about juicy, red watermelon today. The humble watermelon is as popular as flamingos and pineapples lately so any social media post with a watermelon theme should do well.
Need a template for creating a cool watermelon day video? Try using this watermelon template in wave.video. Open Wave and search in Templates > Restaurants & Food:
Or maybe share a quick watermelon tip. I love how Good Morning America shares quick cooking hacks like this watermelon slicing tip, on their Giphy account: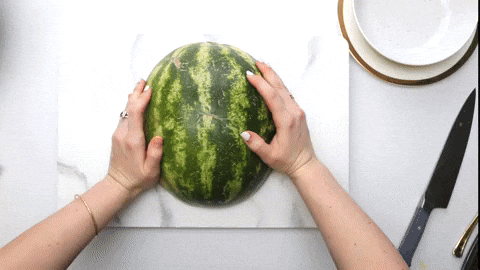 It's also Sandcastle Day if you feel like building one.
4. National Chocolate Chip Day – Not that we need an excuse but yes, it's another chocolate day!
It's also Friendship Day, and National Kids Day (Hooray for Kids Day)
5. National Oyster Day – Love them or hate them, today is the day to post about Oysters!
It's also National Underwear Day. Ooh, La La.
6. Hiroshima Day – Today is the day to remember the bombing of Hiroshima but also for anti-war and anti-nuclear discussions.
It's also National Night Out and National Root Beer Float Day (if you are in the US).
7. Professional Speakers Day – Celebrate your favourite speakers.
It's also Lighthouse Day and Purple Heart Day.
8. International Cat Day – if there ever was a day to post a cat meme, this is it.
It's also Dalek Day (Dr Who fans, get excited!).
9. National Book Lover's Day – Use the hashtag #NationalBookLoversDay when you post about all things books and the love of books. Maybe share a video like this one about being a book nerd:
This video was made with my favourite video tool. Check it out!
It's also the International Day of the World's Indigenous People, so worth sharing something to acknowledge the first residents of our lands, no matter where we live in the world.
10. S'mores Day – Crack out the s'mores supplies. Today is the day for all things marshmallow, graham crackers and chocolate. Hint: my favourite combination is actually a sandwich of chocolate pretzels with cooked marshmallow in between. Sooooo good with a hint of salt!
It's a good thing that it is also National Lazy Day as you'll be in a sugar + food coma after eating s'mores. Use the hashtag #NationalLazyDay.
Oh, and it's World Lion Day too. Find out more here. ,
11. National Sons and Daughters Day – use hashtag #SonsAndDaughtersDay
It's also National Hip Hop Day and Gay Uncles Day.
12. International Youth Day – Celebrate the world's youth today and use the hashtag #WorldYouthDay.
It's also World Elephant Day – to celebrate these wonderful, gentle, loving, giants. Use the hashtag #WorldElephantDay. Or if you like nostalgia, it's Vinyl Record Day too.
13. International Left-Handers Day – Lefties unite! Today is your day and the day to celebrate being a left-hander. Maybe do a post about famous left-handers, or share if you are a left-0hander.
It's also Prosecco Day. Cheers! Maybe share some Prosecco recipes like these from Proper Tasty,
14. Financial Awareness Day and International Rose Rosé. Day – In case you didn't get enough Prosecco on the 13th, you can now indulge in a nice glass of Rosé.

15. National Relaxation Day – If you can be bothered posting on National Relaxation Day, use the hashtag #NationalRelaxationDay. Maybe you'll come up with more August Social Media ideas while relaxing.
It's also International Geocaching Day – If you haven't discovered geocaching yet (as an adult or a kid) and you love adventures and solving puzzles… you'll want to check it out. It's a location-based game that has outlived Pokemon Go in many countries.
16. National Tell a Joke Day – Use the hashtag #NationalTellAJokeDay, and let loose with your best jokes.
It's also National Rum Day. Cocktail, anyone?
17. Today is World Honey Bee Day, and this is super important… we need to protect our bees, like our lives depend on it (because they do!). World Bee Day in May but this is a second awareness day when beekeepers, beekeeping clubs and associations, (as well as honey bee enthusiasts) in the US celebrate honey bees (and the beekeepers) and recognize their contribution to our everyday lives.
18. Serendipity Day – Believe in Serendipity? Talk about it today. #SerendipityDay.
It's also National Fajita Day, so break out your fajitas, guac and chips and margaritas!
19. World Photo Day – You shouldn't have any trouble thinking about what to post on World Photo Day… um…. a photo perhaps? It was a no brainer to include this in our August Social Media Ideas. It's a good thing that our social media platforms love photos! Go crazy on Instagram today! Use the hashtag #WorldPhotoDay.
it's also World Humanitarian Day (use #WorldHumanitarianDay), Orangutan Day, Aviation Day, and Cupcake Day. Phew, that's a lot of days on the 19th this year!
20. National Lemonade Day – Got a good story about your early years in business (or running a lemonade stand?). Use the hashtag #NationalLemonadeDay.
Speaking of lemons, I love this tip for how to cut lemons to avoid squeezing out the seeds: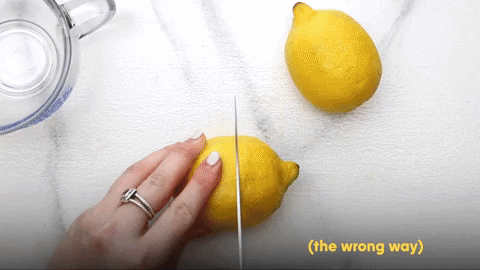 It's also National Radio Day. How far we've come from radio to podcasts! And also a return to what we have always loved at the same time!
21. Senior Citizens Day – Use the hashtag #SeniorCitizensDay.
It's also Poets Day. Share your favourite poem or poet. Maybe create a quick video like this one below which I did, using Wave.video, my favourite video creation tool.
22. Be an Angel Day – Use the hashtag #BeAnAngelDay.
It's also Eat a Peach Day. Share your favourite peach recipe, or just enjoy a fresh, juicy peach! #EatAPeachDay.
23. Day for the Remembrance of the Slave Trade and it's Abolition. – Unesco founded Slave Trade Remembrance Day to remind us about the history of slavery and to continue awareness about abolishing slavery worldwide, as it still exists. You can find out about it here.
24. Shooting Star Day – use this as an excuse to talk about success … or space! It's also Vesuvius Day, the commemorate the day that Mt Vesuvius erupted and buried the city of Pompei in Italy, on August 24th, 79AD.
25. National Kiss and Make Up Day – Time to make up and let it go!
It's also National Whiskey Sour Day.
26. National Dog Day – time to post or talk about your friendly pooch!
It's also National Women's Equality Day – use the hashtag #Womens EqualityDay.
27. Global Forgiveness Day – Today is all about forgiveness. Use the hashtag #GlobalForgivenessDay.
Why.. just because. It's also Just Because Day, funnily enough.
28. National Bow Tie Day – use the hashtag #NationalBowTieDay.
It's also Red Wine Day. Because we can't have too many wine days in August.
29. International Day Against Nuclear Tests. Find out more on the United Nations Website here.
It's also Lemon Juice Day. If life gives you lemons.. add them to your August Social Media Ideas! Why not share something lemon-themed. Maybe a quote or even a quick how-to recipe.
30. National Toasted Marshmallow Day – a favorite for kids and adults the world over, today is a good day to toast some marshmallows.
It's also National Grief Awareness Day and Frankenstein Day and International Whale Shark Day and National Beach Day, to name a few.
31. International Bacon Day – judging by the number of people around the world that are obsessed with bacon, you'd think that 365 days per year were "Bacon Day". But apparently, this is the official day. Use #BaconDay. ,
Share some fun facts about bacon – there are plenty of videos like this one filled with bacon trivia:
It's also apparently Eat Outside Day. So… eat some BLTs outside!
August Social Media Ideas and Holidays – Calendar Months
Use this quick list of August months to find month-long social media ideas:
Family Fun Month
Home Business Month
Black Business Month
National Breastfeeding Month
National Eat Dessert First Month
National Golf Month
National Wellness Month
Professional Speakers Month
National Eye Exam Month
National Inventor's Month
Use this quick list of August weeks to find week-long social media ideas:
World Breastfeeding Week (begins August 1st)
International Clown Week (1-7 August)
Elvis Presley Week (8-16 August)
Be Kind to HumanKind Week (last week in August)
Mobile Apps for Creating Video Content
Want more tools and tips for video? Try these posts:
17 Apps for creating Instagram Stories that Stand Out (you can use these apps for more than just Instagram Stories!).
Ultimate List of 99 Video Ideas to Inspire You – this post is packed full of ideas for topics and themes you can create video about.
Desktop Video Tools:
Check out these video tools to help you create videos and GIFs using the dates above – on desktop:
Want more Social Media Content Calendar ideas?
Check out our complete 12-month calendar for 2021 in this post:
Over to You
Do you schedule your social media content ahead? What are your Favourite August Social Media holidays?
The following two tabs change content below.
Donna is a Visual Content Strategist and founder of Socially Sorted, listed by Forbes as a "Top 5 Social Media Blog You Need to Know About in 2019". Donna helps brands leverage the power of visual storytelling and content strategy in their business. Her content has been featured in publications such as Forbes and Entrepreneur Online and she is a contributor to Social Media Examiner. Donna speaks about digital and visual content for the marketing and tourism industries internationally.
Latest posts by Donna Moritz (see all)